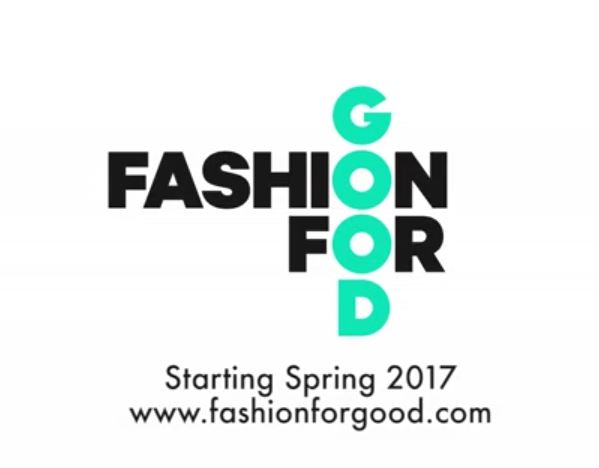 30 March 2017, Amsterdam – Fashion for Good is making an industry-wide call for collaboration to transform the apparel industry at a gathering of innovators, fashion and sustainability thought leaders today in Amsterdam. As a holistic and inclusive open-source initiative, Fashion for Good invites the global fashion industry to reimagine how fashion is designed, made, worn and reused.
Fashion for Good aims to promote the five "Goods" of a new, transformed fashion industry: Good Materials, Good Economy, Good Energy, Good Water, and Good Lives. In pursuit of this goal, Fashion for Good enables the fashion industry to embrace innovation, change its business models and adopt a totally new mindset.
"The Five Goods represent an aspirational framework we can all use to work towards a world in which we do not take, make, dispose, but rather take, make, remake," said William McDonough of McDonough Innovation. "Fashion for Good is about transforming the industry from serving one generation to serving many generations."
Leslie Johnston of C&A Foundation said: "Open and inclusive, Fashion for Good will share all knowledge and lessons learned from its activities.  In doing so, we want to inspire all stakeholders in the fashion industry to work toward a future in which everyone – farmers, workers, customers, and communities – can flourish."
Fashion for Good is changing the apparel industry through innovation and new business models. Its innovation platform scouts for, nurtures and funds early-stage ideas and it scales proven technologies and business models for wider adoption by the industry. Its Apparel Acceleration Fund aims to catalyse access to finance and its open-source Good Fashion Guide shares knowledge to help the apparel industry transform. As a convenor for change, Fashion for Good enables conversation and collaboration, bringing together co-locators at its first hub in Amsterdam, as well as visitors to the Fashion for Good Experience to learn more about Good Fashion.
With an initial grant from founding partner C&A Foundation, Fashion for Good inspires brands, producers, retailers, suppliers, non-profit organisations, innovators and funders all working towards a Good Fashion industry and invites industry to join and collaborate.
 About Fashion for Good
Fashion for Good is the global initiative that is here to make all fashion good. Fashion for Good sparks and scales innovation by offering practical action in the form of support and funding, shares best practice and lessons learned in open-source roadmaps, and fosters sector-wide collaboration for the entire apparel industry to change.
Fashion for Good invites brands, producers, retailers, suppliers, non-profit organisations, innovators and funders to jointly transform the industry.